Portable Wing Chun Dummy
The Wing Chun dummy is a training equipment for Wing Chun practitioners. Its benefits are to help emulate a training partner and to train the various hand, leg, and grappling techniques in Wing Chun.

Traditional Wing Chun Dummy
The traditional Wing Chun dummy is usually made of wood and is called "mook jong" in Chinese which means wooden dummy.
---
The Problem with a Traditional Wing Chun Dummy
I definitely wanted to have a Wing Chun dummy for my own training purposes at home. The problem was, the traditional wooden dummy was too big to have in my home. I did some research and found some alternatives such as the wall mount wooden dummy.

Wall Mount Wooden Dummy
The problem with the wall mount was that I needed an empty wall to keep it up. Like with the traditional wooden dummy, I didn't have the space for it plus I was very skeptical of how strong my walls would hold up the dummy. Another alternative I found was the freestanding mook jong.

Freestanding Mook Jong
This freestanding dummy looked much more promising since it would only take up a corner of my apartment! Then I read the fineprint and it said it had to be bolted down to the ground! This meant I couldn't move it around and I would have to make sure the space I choose will be completely sufficient for me to complete my dummy form.
After searching and searching, I decided to create my own Wing Chun dummy, something that is portable and just as resilient as the traditional.
---
The Little Idea
I started with the design of my portable Wing Chun dummy focusing on three main things. After I had an idea of what I wanted, I hired professionals to create a mock-up.
The idea behind the portability was because I wanted to practice Wing Chun on my dummy on my own time and when I don't I can put it away. It takes only minutes to assemble/disassemble and its dimensions are roughly 35″x11″x11″ (in inches) in its portable form.
Even in it's full form, it only takes up as much space as a freestanding dummy would. I really like the idea that I can practice in my kitchen or my living room and pack it up again when I'm done so it doesn't take any permanent space in my apartment! Now I can literally practice anywhere!!
Lastly, the dummy is lightweight and weighs about 60lbs or 30kgs. If it's necessary, I can add water to the included water tanks so I can add more force when training. I personally have been told that the best way to practice the dummy form is with as little strength as possible so I can focus on my technique and movement.
---
The Portable Wing Chun Dummy
I hired professionals to create my first prototype. I now have my own portable Wing Chun dummy. The dummy isn't perfect and still requires a few tweaks but the thought of how I created this out of my imagination will never cease to amaze me.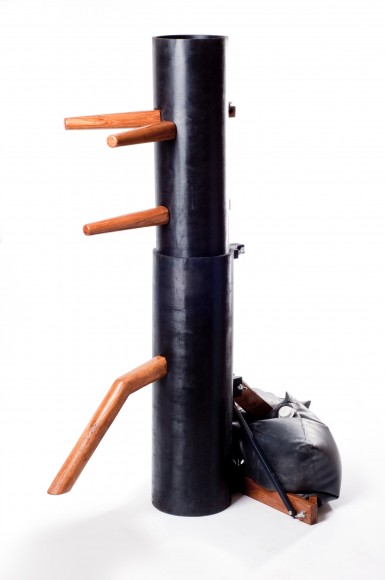 If you wish to see more photos of my portable Wing Chun dummy, you can check them out on my Facebook page at https://www.facebook.com/PracticeWingChun.
I hope that by sharing my story, I have inspired you and many others to come up with new and innovative ways to train and practice Wing Chun because it all starts with a little idea.
---
Where can I buy a portable Wing Chun dummy?
The Portable Wing Chun Dummy is not for sale and is only a proof of concept.
If you're looking for a traditional Wing Chun dummy, I recommend checking out Everything Wing Chun and Amazon.